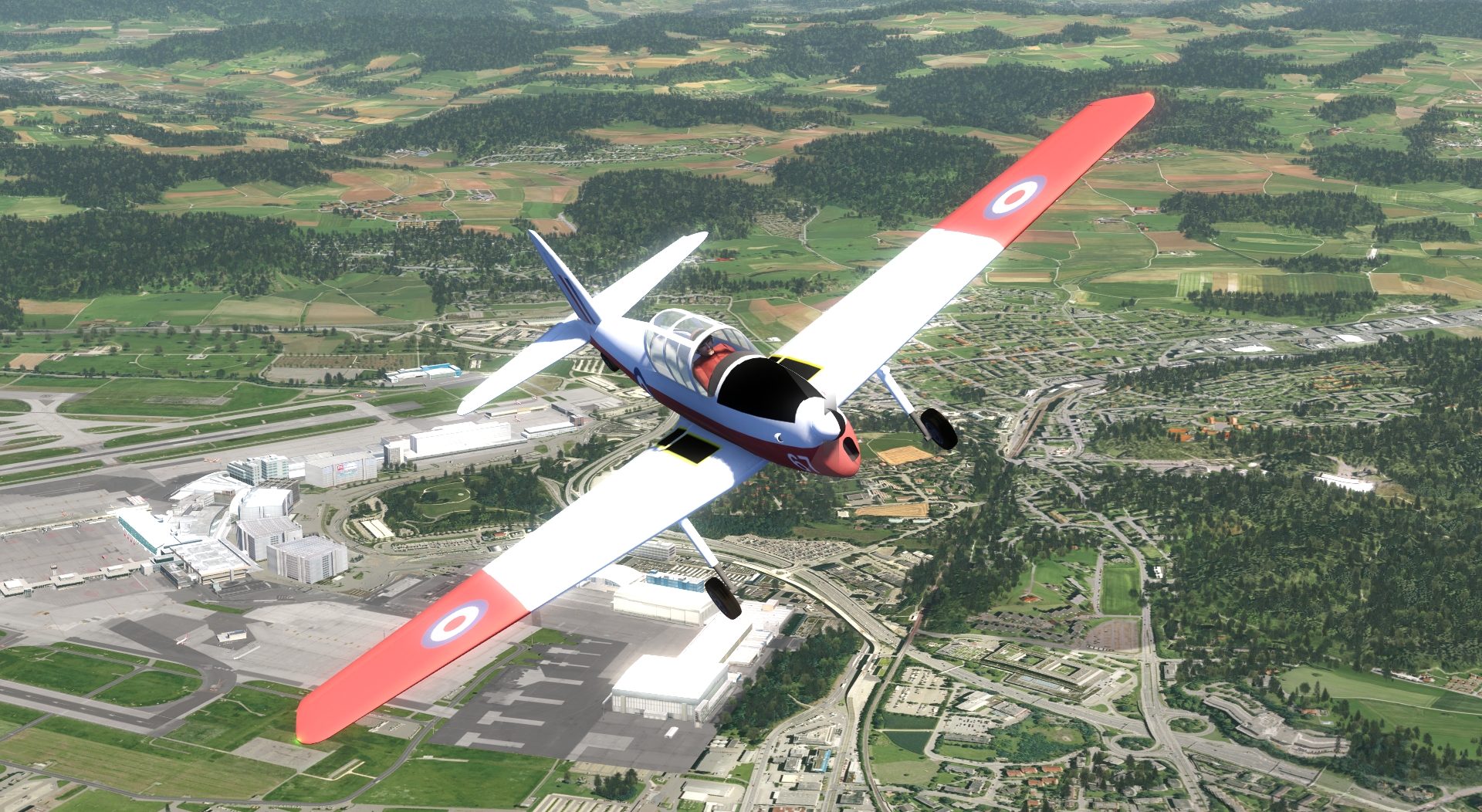 Description
The de Havilland Canada DHC-1 Chipmunk is a tandem, two-seat, single-engined primary trainer aircraft which was the standard primary trainer for the Royal Canadian Air Force, Royal Air Force and several other air forces through much of the post-Second World War years. Today, over 500 DHC-1 Chipmunk airframes remain airworthy with more being rebuilt every year.
Aerofly FS aircrafft converted from FlightGear by:
Krzysztof Kaniewski
3D design, YASim model and FDM (for FlightGear) by:
BARANGER Emmanuel
embaranger (at) free.fr
(c) 28 Octobre 2000 http://helijah.free.fr/flightgear/hangar.htm
Tested: Compatible with aerofly FS version 1.2 and 1.3.1
Specials
There are 2 extra liveries: WK518 – created by BARANGER Emmanuel, Adak47 – created by Krzysztof Kaniewski,
To set livery (may not work on Macintosh!), choose 'dhc1' plane, exit aeroflyFS and edit 'main.mcf' the line from: <[string8][model_0_paint][]>
to: <[string8][model_0_paint][WK518]>
or: <[string8][model_0_paint][Adak47]>
Choosing another plane reset to default livery.
Openning canopy – use 'GliderEngine' buttons,
Altimeter setting – press 'AirBrake' button and move 'Rudder',
Landing light turn on with flaps.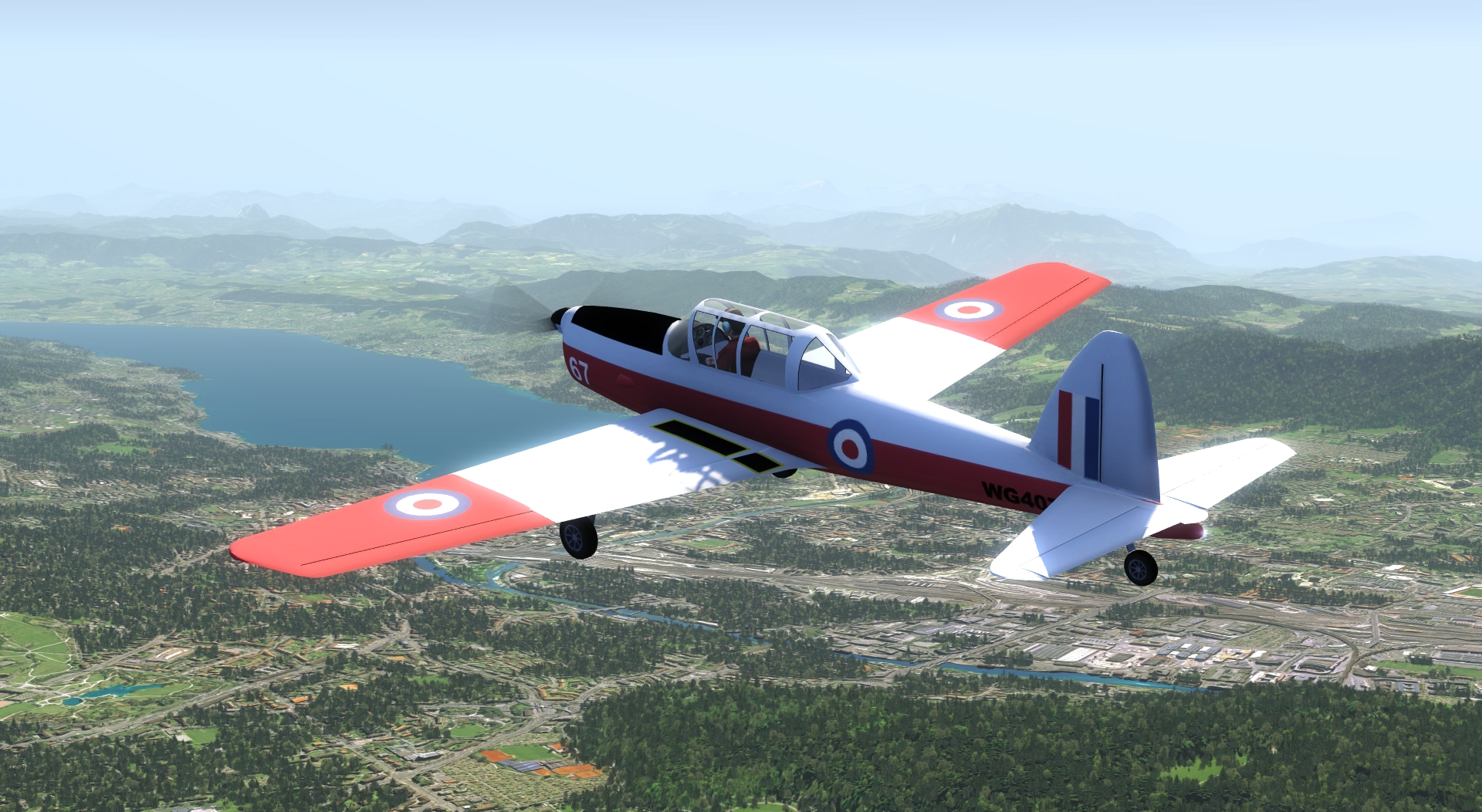 Installation
To install the aircraft decompress the zip-achieve and move the folder "dhc1"
into the user folder of the aerofly FS into the subdirectory "aircraft".
The user folder is usually located in your own documents ("C:\Users\~\Documents\aerofly FS") and
the aerofly Wiki provides further information about it:
aeroflyWiki/UserFolder
Example:
"C:\Users\~\Documents\aerofly FS\aircraft\dhc1\dhc1.tmd"
The aircraft uses sound files from default aircraft. And because the sounds of the default aerofly FS aircraft
are copyrighted they are not included in this download. They have to be copied over manually and here is the
description on how to do that.
The files of all default aircraft are located within the installation folder of the aerofly FS.
This is the folder where the aerofly main executable is located.
Follow the link to the aerofly Wiki to get further information about the installation folder:
aeroflyWiki/InstallationFolder
From "InstallationFolder\aircraft\cessna172" copy all .tsb files:
ext1000rpm.tsb
ext1200rpm.tsb
ext1500rpm.tsb
ext1800rpm_1.tsb
ext2100rpm_3.tsb
ext2350rpm.tsb
ground_roll_h.tsb
int1000rpm.tsb
int1200rpm.tsb
int1500rpm.tsb
int1800rpm.tsb
int2100rpm.tsb
int2350rpm.tsb
sideslip.tsb
wind.tsb
and paste them into the "dhc1" folder.