The template finder for the Aerofly FS 1, Aerofly RC 5, Aerofly RC 7 and Aerofly RC 8 is a nice-to-have piece of software when you are programming aircrafts for any of these simulators. It provides you with a snipped from a tmd file that you can then paste into you own .tmd file of the aircraft that you develop. Not only does it reduce the required time to find a certain object in other aircraft files but you also get every parameter that you can have and it also shows the output parameters for a certain objects.
---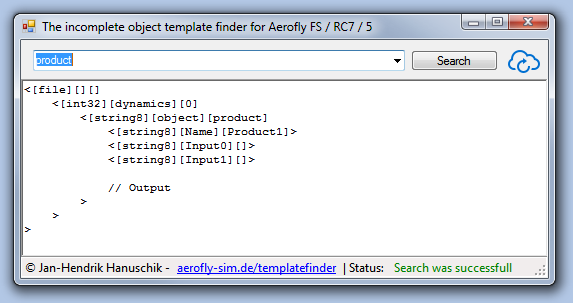 ---
Usage:
Please type in an object name in the search textbox above or select one from the dropdown menu.
Just hit enter on your keyboard or press the search-button to load the template.
Select the lines you want to use (usually from the beginning of line 3 down to the end of the 3. last line, leaving the last two closing brakets (">") behind) and copy them to your clip board using Ctrl + C
Paste them in your tmd-Editor of choice using Ctrl + V or any other in build method.
---
Features:
provides TMD – object templates
drop down list with all installed templates
update functioniality for templates
Alt + Arrow Left/Right maintains the width of the form and docks it to the left and right of your screen
---
Requirements:
Windows OS (tested on Windows 7 Home Premium, 64bit)
Windows Installer 3.1 or newer (for the setup)
Microsoft .NET Framework 4 Client Profile (x86 and x64) (the setup will install it if necessary)
The software does not require an internet connection to run. It will not try to connect to the internet to update itself. If you want to update the templates then you need an internet connection!
---
Before downloading it please note that it is in an alpha stage!
This means I cannot ensure you that this program won't crash or even work. It works on my Windows7 64bit PC. You use this program at your own risk.
You can either download the stand-alone version that comes in a zip-compressed archieve
or download the setup.exe to install the software automatically.
Using the setup installer has a few benefits:
shortcut in the start-menu
shortcut on the desktop
program can be uninstalled using Windows' own list of programs
.NET Framework 4 gets installed if necessary
---
Here are the download links:
| | |
| --- | --- |
| Name: | Aerofly TMD Template Finder – Compatible with Aerofly FS 1, Aerofly RC 5, RC 7, RC 8. Aerofly FS 2 has its own tool |
| Publisher | Jan-Hendrik Hanuschik (aerofly-sim.de) |
| Version | 1.0.0.2 Alpha (use at own risk) |
| Download | |
| | |
| Support | -> Support Link |
---
Disclaimer:
This program uses templates that have been collected from a huge numer of aircrafts from the Aerofly FS, Aerofly Rc7 and Aerofly5 Simulators. They have been modified to make them usable out of the box. Some parameters within an object might not fit together e.g. the propeller diameter and pitch.
Some templates are not collected yet – you can help me, if you want.
When you are using the templates please make sure you do it correctly. You should especially pay attention to the "Body" Parameter (if the object has one). Don't leave it blank and don't let it point to an object that does not exist, this might crash your aerofly!
---
Copyright & License
This program was written by me, Jan-Hendrik Hanuschik, in my free time.
Feel free to share this program with others as long as you do it for free.
If you are using this software while creating payware content (commercial use) please let me know about it.