Description
Simply type in the class name and press enter to receive the full tmd code for that object type. You can then copy the selected text and paste it in your own text editor.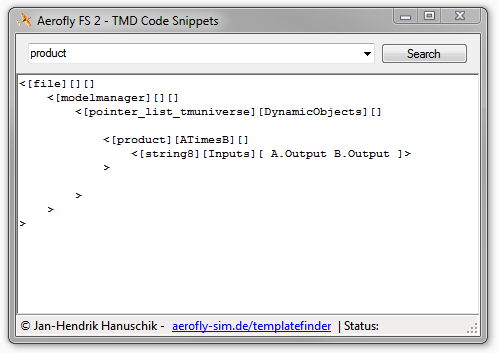 Disclaimer
Even though no harm is intended with this product and it works well on my own computer…
USE AT OWN RISK!
The list of snippets may be incomplete.
Requirements
.NET Framework 4.5.2 or greater needs to be installed
Copyright & License
This program was written by me, Jan-Hendrik Hanuschik, in my free time. Feel free to share this program with others as long as you do it for free. If you are using this software while creating payware content (commercial use) please let me know about it but you are free to use it.
Download
Download is a stand-alone Zip file. Decompress it and then just start the CodeSnippets.exe.
Last modification: 2017-12-01 (Fri)