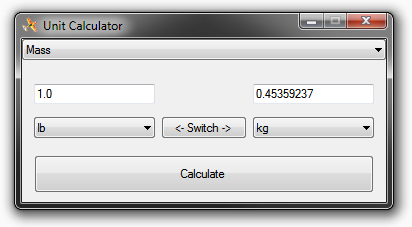 Description:
A simple free and offline converter for a lot of units that are used in aviation and physics in general.
| | |
| --- | --- |
| Name: | Physics Unit Calculator |
| Publisher | Jan-Hendrik Hanuschik (aerofly-sim.de) |
| Version | 1.0.0.0 (use at own risk) |
| Download | |
---
Disclaimer:
Use this program at your own risk. I cannot guarantee that the software will preform as intended. Several tests on Windows 7 and 10 PCs ran without issues
The correctness of any calculated value cannot be ensured. Please check double check each value before usage.
Copyright & License
This program was written by me, Jan-Hendrik Hanuschik, in my free time.
Feel free to share this program with others as long as you do it for free.
If you are using this software while creating payware content (commercial use) please let me know about it. But you can of course use it for free.